COMSATS seminar Sustainable alternatives to plastic bags
Centre for Climate Research and Development (CCRD), COMSATS University Islamabad organized a seminar on "Sustainable alternatives to plastic bags: Conserving Environment" at Video Conference Room, Junaid Zhaid Library, COMSATS University Islamabad.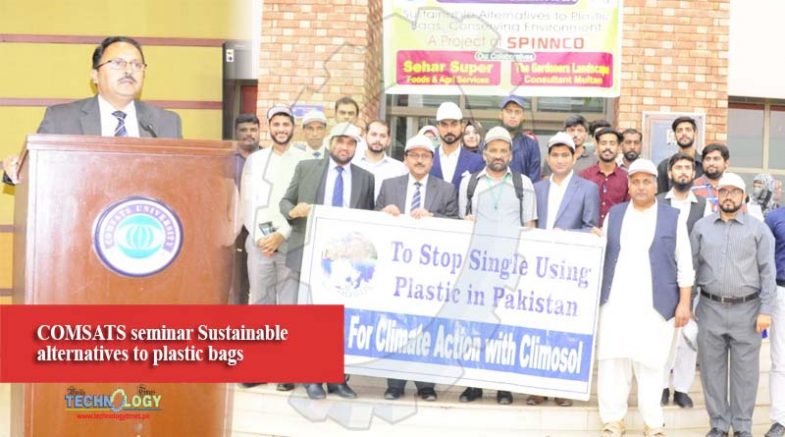 The purpose of this seminar is to give awareness on environmental damages caused by plastic pollution and ways to save environment through adopting alternative solutions of plastic bags.
Incharge Academics, COMSATS Prof. Dr. Junaid Mughal welcomed the honorable guest, faculty members and students in seminar. He said the theme of our seminar is in line with the " Plastic Free" project of Ministry of Climate Change. CUI has taken up a leadership role in promoting causes of Clean and Green Pakistan.
Deputy Director (Chemical), MOCC Dr. Zaigham Abbas appreciated the efforts of COMSATS in Clean and Green Pakistan. He said Pakistan is among the most climate change affected countries. According to vision of Prime Minister Imran Khan, present government is taking steps to make a clean and green Pakistan.
 Youth can play effective role to combat this challenge through plantation, so that Pakistan can be saved from the risk of climate change. Students can spread awareness in order to protect the environment.
To overcome these challenges, Pakistan government since last year has launched several green projects under Clean Green Pakistan movement, which includes plantation, plastic bags ban, electric vehicles policy and clean drinking water. Pakistan has also committed to 10 billion trees plantation in 5 years to combat climate change.
The activities of COMSATS seminar included presentations on plastic pollution, poster competition and awareness walk.