Pakistan freelancers thrive as Asia leads Q2 global gig economy
As globalization widens the employment pool for firms around the world, this broader job market is flowing quickly to Asia, where workers are more educated and technically proficient from a younger age.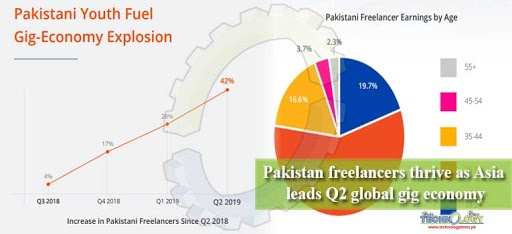 With a large population of freelancers who qualify, it shouldn't be surprising to learn that Pakistan is Asia's biggest epicenter for the internet's ever-expanding market of remote work. According to the Q2 2019 Payoneer Global Gig Economy Index, it is now the 4th fastest growing gig economy in the world.
Pakistan is a defining country in the freelancer landscape of 2019 thus far, and Payoneer's Gig Economy Index demonstrates how successful its efforts were to drive demand for an increasingly-skilled (and connected) workforce.
Thanks to its direct line into the globe's digital cash flows, Payoneer is able to provide granular insights into why Asian countries like Pakistan in particular have ridden the crest of the gig economy's massive wave. It also helps build a case for their continued success in this regard.
Pakistan a Primary Candidate for Asian Freelancer Growth
Pakistan beat other countries including India to claim the top spot among Asia nations that showed steep upwards growth in their gig economies. Asia strengthened its position as a freelancer hub with Pakistan, India, Bangladesh and the Philippines collectively attaining a 138% improvement in earnings from Q2 2018.
Pakistan's gig economy expanded an impressive 47% in this period, pulling ahead of several frequent list-toppers such as regional rival and eCommerce trailblazer India.
The world's only other countries to beat Pakistan in Asia Q2 2019 YOY growth were the US (78%) and UK (59%), predictably, but also Brazil by just 1%. There's logic behind Pakistan's significant lead, as the report delves further into how the country is able to consistently record generous gig economy growth.
Pakistan's government has invested significantly to enhance the technical skills of its students from a young age, and the country enjoys blanket 4G coverage unlike other emerging markets, so workers have better access to international employment opportunities.
Pakistan has directly benefited by nurturing its younger and naturally tech-savvy population, 70% of which are under 30 years old. Statistics on global freelancer revenues by age group indicate that this segment comprises 70% of the total global freelancers and 77% of total freelancer revenues measured in Q2 2019 by Payoneer.
With statistically-significant slices of the freelancer marketplace, young Pakistanis in the tech sector have also proven they're able to capitalize on this opportunity by marketing themselves well to an international audience, which itself is a vital skill as firms outsource more of their work.
"There have been many public and private initiatives that have resulted in better quality of freelancers", explains Payoneer's Mohsin Muzaffer, the Head of Business Development in Pakistan.
"Pakistan's digital work force is recognized as one of the best and Payoneer will continue to be a part of this growth," he says. The statement is notable for several reasons, primarily due to recent events in the space.
Redemption for Pakistan After PayPal Dispute
Though all signs clearly state the fact that Pakistan has a hefty lead on Asia's digital market for paying work, not all see it the same way. A recent event saw PayPal reject an official request to enter the Pakistani market, yet the language that PayPal used kept open the possibility of a future integration.
Given Pakistan's larger gravity in the digital economy this is no big shock. "PayPal did not decline because it has issues operating in Pakistan", notes Pakistan's Ministry of Information Technology Secretary Maroof Afzal, "Their internal working is such that they are not ready to introduce services."
The positive findings in Payoneer's report tend to support noncommittal statements given by PayPal, which leave open the prospect of it cracking open the country's lucrative market by joining peers Payoneer and other interested providers Alipay and Google.
However profitable it might be for providers to enter Pakistan's bustling digital economy now; the country's legislative authorities indicate that they likely won't make a move until the government can come together and build them a level playing field.
"One case of money laundering could cause significant problems for PayPal [and other payment providers]. PayPal must have the backing of the government that it can secure the interests of the company," said Senator Muhammad Ateeq Shaikh.
This will require a legislative campaign to change the liability laws for these companies in Pakistan, but it's a positive sign that lawmakers have not rushed them through. In this way Pakistan again gives concrete evidence of its commitment to nurture a gig economy with longevity.
Pakistan Poised to Dethrone Top Gig Economy Contenders
With Payoneer's breakout report illustrating Pakistani dominance in the digital employment arena, PayPal's refusal to enter this growing market contrasts heavily and is ill-timed.
However, Asia 2019 Gig Economy Index numbers also show that Pakistan's place at the helm of the world's gig economy is lasting as over time it has cultivated the trends which contribute most to this type of economic power.
Accordingly, the integration of payments and other developed digital platforms isn't long off, and the trajectory of Pakistan's digital economy is nowhere but up.