A sacred area for native Hawaiians is filling up with trash. Crews are 'fighting the onslaught.'
With an estimated 115,000 pounds of debris accumulating on the reefs of Papahānaumokuākea, crews are struggling against a pileup that keeps building.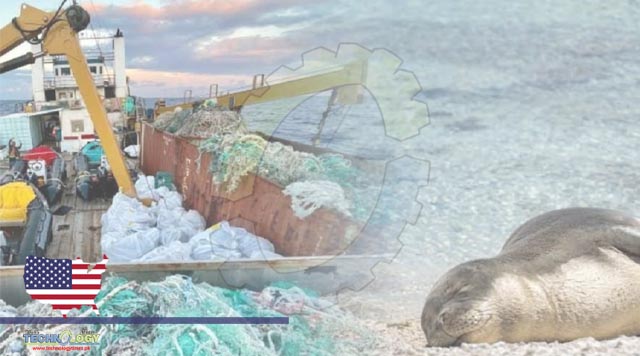 One month in, the trash plucked from the ocean had piled up – sopping fishing nets covered in plastic that had choked Hawaii's coral reefs. The cleanup crews knew their task was far from over. "It's a lot of work, a lot of long days," said Kevin O'Brien, founder of the Papahanaumokuakea Marine Debris Project. "But we do it because we're trying to protect a place we love." When they finished last week, three shipping containers were heaped with debris fished from the waters of Papahanaumokuakea Marine National Monument, a hub for biodiversity and home to sacred cultural and historical sites. In total, 97,295 pounds, or about 48.6 tons, of marine debris were removed, about 86,000 of which came from a single reef. Despite their efforts, O'Brien said, there is a "humongous backlog of accumulated debris from the last 10 to 15 years" as the plastics continue to build.
The team plans to set sail again in September with the goal of catching up with the backlog and keeping up with annual accumulation. Megan Lamson, a program director at the Hawaiians Wildlife Fund, called this expedition's haul "a hugely significant" achievement. But about 115,000 pounds of marine debris accumulate on the reefs of Papahanaumokuakea each year, according to PMDP, so crews are struggling against a pileup that keeps building."The debris just keeps accumulating and accumulating," said Mark Hixon, marine biology professor at the University of Hawaii at Manoa and a member of the Papahanaumokuakea reserve advisory council. "It's fighting the onslaught."
Papahanaumokuakea Marine National Monument is a string of remote, uninhabited islands making up the last 1,300 miles of the Hawaiians island chain, O'Brien said. Named a natural and cultural World Heritage Site by the United Nations Educational, Scientific and Cultural Organization, it's the largest contiguous, fully protected conservation area in the USA, covering an area larger than all of the country's national parks combined. Papahanaumokuakea contains 3.5 million acres of coral reef, about 70% of all the coral reef in the USA., O'Brien said. The reefs are home to a vibrant ecosystem of more than 7,000 marine species, 23 of which are endangered and about a quarter of which are found nowhere else but Hawaii. Hawaii's endangered monk seals, endangered Laysan ducks, threatened green turtles and thousands more species live there, despite the plastic that has encroached on their habitat.
Source: This news is originally published by usatoday