The Future Of Car Accessories Is Finally Here?
Technology has created ripples in every field of life; whether it is governance, medicine, economics or business management, technology and its benefits have given rise to a new culture of practices.
By Saad sehgal
'SehgalMotors.PK' embodies the same transformation that has evolved over a period of time in the Automobile sector of Pakistan. SehgalMotors.PK is an ensemble of a wide range of phenomena owing to the combination of technology in the Automobile sector. Across the world, developed and developing countries are including technology in the e-commerce sector to achieve long-term goals associated with the economy, and environment. Similarly, Pakistan has also embarked on the mission of using technology to increase the scope of its Online shopping sector.
What is SehgalMotors.PK?
Almost every car enthusiast in Pakistan know the famous punch line " assalam-o-alaikum this is saad from SehgalMotors.PK" SehgalMotors.PK is the Largest car accessories online shopping website having more than million of car accessories products with 4 state of the art Retail Outlets in Lahore. Serving thousands of people across Pakistan every day. Providing best services , Today SehgalMotors.PK has emerged as a trendsetter and best Car modification Company in Pakistan. Having more than Millions of followers on social media , SehgalMotors.PK is the favourite shopping website and store for car enthusiasts. Popular among Men in the age bracket of 15 to 65 years.
"We want to become the next Amazon of Pakistan in the name of SehgalMotors.PK" says Saad Sehgal CEO SehgalMotors.PK
SehgalMotors.PK Faisal Town Flagship Store
– SehgalMotors.PK Johar Town Branch
– SehgalMotors.PK Davis Road Branch
– SehgalMotors.PK Montgomery Road Branch
Family Friendly Environment and Ambiance:
With the help of technology , SehgalMotors.PK totally transformed the conventional retail system of Car accessories into a new Improved version the way people deserve today. Previously people used to visit car accessories markets where they had to tolerate the traffic, spiv activities, price discrimination, lack of variety and unfriendly user experience.
SehgalMotors.PK promises all items under one roof with state of the art outlets where customers can easily shop similar to shopping malls. The environment and ambience is created at such a level that customers also shop with their families. Girls usually never went to car accessories markets despite needing them badly previously as it was considered a taboo. But now they visit and shop according to their needs in a peaceful and user friendly environment.
"Never imagined something like this,this is the walmart of pakistan, a heaven for car enthusiasts" – Kh. Munir Ahmad CEO Munir Traders
New Shoppers Concept:
At SehgalMotors.PK , they have Two types of shopping carts where the customer can easily choose between two colored carts. If they want any assistance they will carry a RED cart. An assistant will come and will be assisting them with shopping. If the customer wants to shop alone on their own and doesn't need any assistance, they will carry a BLUE cart. This makes shopping so exciting for customers.
"This is surprisingly a new idea" – Customer
Online Docking Station:
Furthermore, they have a docking station where customers can use laptops to search for items on SehgalMotors.PK website where they can watch demonstration videos and photos among millions of products through which they will get the clear picture of how it would work or look on their car. Plus all prices are transparent and fixed for everyone with prevents a customers from price discrimination thus making customer trust on the brand stronger. Furthermore, Customers can Charge their Phone on Docking Stations using Maximus Fast Charging Cables.
-Desktop Version Website
Mobile Version of Website
LIVE Tryouts Experience:
SehgalMotors.PK has Live user experience stations where customers can check and use the product before buying. For example if a customer wants to buy an Android LCD for their car, they can use it to get LIVE experience before purchasing. Similarly they have different types of Horns to test while pressing a push button so they get Live experience of the sound they were looking for.
"By this try out feature I can check the product before installation, this really makes up my mind what i am going to get exactly"- Customer
-LIVE Stereo Section -LIVE Horn Demonstration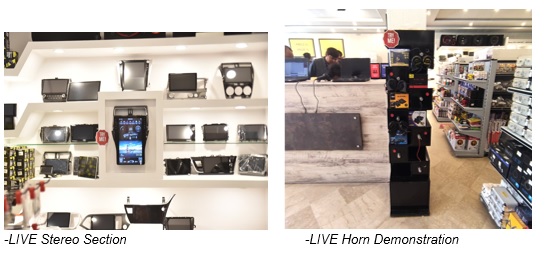 Categorization of Car Accessories:
All items are categorized in a manner that anyone can visit and buy accordingly without any hassle. The aisles are created in a categorized pattern where a user can easily search for items without any assistance. If they want to purchase Car gadgets they can easily move around to that category.

"This is a hassle free shopping experience. I know which aisle i have to go"- Customer
SehgalMotors.PK Android and IOS App:
SehgalMotors.PK has an android and ios App too where if a customer installs the App, they can get a free gift from the counter. The app is so user friendly that you can easily scan features to get all information and prices on your phone by simply scanning the barcode of the product.
" Isn't it fabulous? Where people used to ask for a price, now they can easily check by themselves. A totally autonomous experience." – Customer
Billing System:
Unlike conventional billing systems where shopkeepers use manual billing systems that can be forged or tampered, at SehgalMotors.PK you will get a POS billing invoice which cannot be changed. So this creates a sense of security among customers that they won't be overcharged . There is no Price discrimination. Everyone is treated Equally.
"Now I can always send my driver for purchase without the fear of the billing system being tampered like in manual billing systems . Due to computerized slips, it can not be overcharged or forged"- Customer
Credit/Debit Cards Accepted:
Unlike other markets, people can purchase here using debit and credit cards with no extra charges. This makes customers easy to purchase even if they are low on cash. SehgalMotors.PK also offers FREE cash on delivery and credit card payment online which gives customers a comfort to peacefully shop online.

"No extra charges on Credit/Debit card transactions, no need to carry cash when coming to SehgalMotors.PK, what a relief"- Customer
Professional Sales Team:
Unlike the conventional system, SehgalMotors.PK has a professional sales team and installation team that is skilled and highly trained. Qualified and Well spoken staff enable the customer to communicate better in a professional way.
"The staff treat us like a king, honestly ,well educated and impressive staff they have"- Customer
Huge Variety:
SehgalMotors.PK offers lowest prices with all kinds of qualities. A customer can choose between a range of products with different prices and qualities depending on what they require.
No rush, no traffic, SehgalMotors.PK has a big parking space. No need to fear about your car being knocked up in traffic.
" i always avoid taking my new car to traffic or areas with no parking space, thankfully SehgalMotors.PK has a big space where i can park my car safely without getting scratched by traffic"- Customer
Famous Celebrities Spotted at SehgalMotors.PK
Author : Saad Sehgal 57/5-R Montgomery Road Lahore