Pharma's Blockchain: Novartis, Merck Test Tech Popularized By Bitcoin
Novartis, one of world's largest pharmaceutical Firms, thought it might have a solution: blockchain, technology first popularized by bitcoin.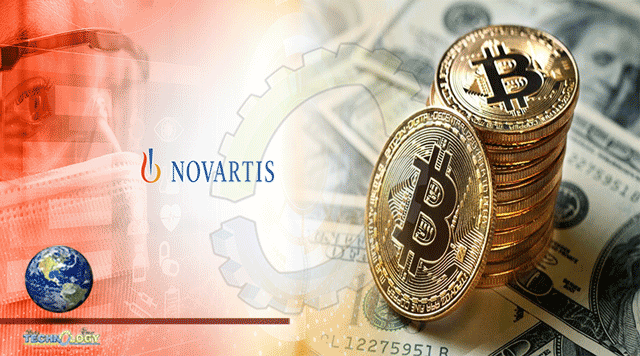 The pharmaceutical industry has a paper problem. Every single box of medicine must include a paper insert with dosing instructions and technical information that can measure several feet long. Some patients read it over, some patients stash it in a drawer, while others just dump it in the trash. These pesky printouts can cause a massive headache for the entire drug supply chain if they are outdated or incorrect and result in a recall.
Novartis, one of the world's largest pharmaceutical companies, thought it might have a solution: blockchain, the technology first popularized by bitcoin, which lets groups move value without the need for middlemen. Because blockchain requires networks moving value, the Basel, Switzerland-based company wasn't prepared to go at it alone.
"Blockchain is a team sport," says Daniel Fritz, a supply chain technology architect at Novartis. His team worked on a proposal for a public-private partnership with the European Union, known as the Innovative Medicines Initiative, to explore using blockchain in healthcare. The purpose of the program, says Fritz, is to fund projects that are "too risky" or "too expensive" for any one company to pursue on its own.
The first application for the PharmaLedger project is to provide patients with electronic medical leaflets, which are digitized versions of the paper inserts legally required by health authorities with important medical information. There is currently no way to get immediate changes to patients due to the complexity of the supply chain, but the hope is blockchain could eventually provide secure updates in near real-time.
A year after bringing together 29 partners and securing $22.1 million in funding, Novartis and Kenilworth, New Jersey-based Merck have started testing the technology. This project, along with 5 others in development, earned Novartis a spot on the 2021 Forbes Blockchain 50 list of billion-dollar companies taking blockchain seriously.
While blockchain is popularly associated with cryptocurrencies, like bitcoin and ethereum, pharmaceutical companies are banding together to explore its use as a more secure enterprise solution allowing different entities to communicate without revealing confidential information.
With PharmaLedger, a patient will be able to download an app and scan a 2D matrix on the outside of the drug package. Similar to a QR code, the data matrix is a collection of black and white dots that encodes information , including the serial number. The scan recognizes the manufacturer and then sends a request for the most up-to-date digital leaflet for that particular drug.
It's imperative the manufacturer can prove through the blockchain ledger that the patient received the correct product information. "The leaflet has to be the right one, especially when you think about little details like one milligram or one gram," says Marco Cuomo, an applied technology innovations manager at Novartis. But the patient also needs to feel secure that their personal health information is going to stay private. This is another key benefit to using blockchain, which uses random identifiers so patients don't need to worry that the app is somehow recording what medicine they're taking or what disease they have.
There is also a business benefit, though Novartis and Merck declined to estimate the savings that could be generated through blockchain. Not having to print paper leaflets could speed up packaging lines and could also reduce the number of recalls. Over the past five years, packaging or insert issues have accounted for 13% of all pharma recalls, according to Chris Harvey, who leads the recall team at Stericycle Expert Solutions.
While around half of the 334 average annual drug recalls are due to issues in the  manufacturing process or failure to meet certain standards, mislabeling recalls "can be larger in size," since they can span across multiple batches, Harvey adds. With two-years of funding left, the PharmaLedger group will continue to add new capabilities, such as anti-counterfeiting checks.
The next step is to work on governance with regional and national health authorities in order to rollout the app in pilot markets. The technology will be available to any interested companies, no matter how big or how small. "It doesn't cost any money—no software licenses, no maintenance costs," says Fritz. "People don't have to put up a big investment in order to adapt it and install it."
This news was originally published at Forbes.