Pakistani youth marched for global climate change
Pakistan Climate March was organized by association of environmentalists known as 'Climate Action Pakistan'. They demanded from the government to take quick action to handle the global climate changes and prevent an environmental disaster.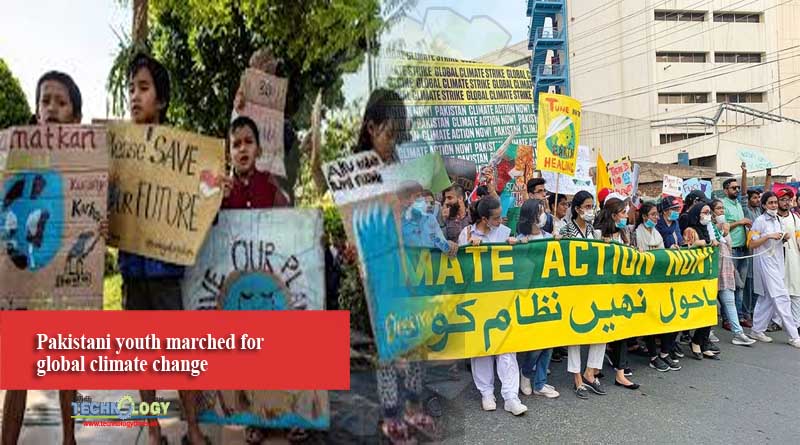 This protest termed as the largest climate protest in the history because 32 cities across Pakistan with major march in Islamabad, Lahore, Karachi, Quetta, Peshawar and Gilgit. Environmentalists, politicians and celebrities also joined the march with thousands of students in school uniform marched across Pakistan.
A huge crowd of young people marched from press club to D-Chowk in Islamabad, carried brightly colored handmade placards with title "save our planet", "You are never too small to make a difference", "I am here to make a change and fight for the future generation," "If not us, then who? If not now, then when?"
Pakistani youngsters Tooba Shahid, talked to media that she joined the march "to aware more people about the global climate change and how to tackle it." She advised people to start with little things such as to stop littering. These little efforts when combined will eventually make a big difference.
Many Pakistani youngsters in march requested the government of Mr Imran Khan to take full initiative in creating a system that benefits our society and our environment. They demanded action on climate crisis because it is affecting them most. They complained that the policies are effective only on paper and slow in implementation.
Environmentalist Mome Saleem said "We need to place environment at the heart of all economic and social policymaking if we want to control the effects of global climate change and save our natural resources".
15 year-old student of Fatima Jinnah Government School Rimsha Ali,said "We did not contribute to this environmental mess, yet we are the victims."
A young Islamabad based environmentalist, Maryam Shabbir, said "I am so glad to see a lot of youngsters especially school students at the march and they are quite sensitized about climatic issues. They are very concerned about their future and want to make a difference,"
Environmental lawyer, Abdul Rafay Alam, who attended the march in Lahore, was also fascinated to see huge number of youngsters and hoped they will be able to convince the leaders to take immediate actions. "Our house is on fire and our leaders are not acting as they should in crisis."
Pakistan has been ranked as the 7th most vulnerable country affected by climate change facing challenges which includes melting of glaciers that affecting freshwater availability, risk of floods and droughts, decrease in crop yields affecting livelihoods and food production, increased water, air and soil pollution and wildlife loss.
To overcome these challenges, Pakistan government since last year has launched several green projects under Clean Green Pakistan movement, which includes plantation, plastic bag ban, electric vehicles policy and clean drinking water. Pakistan has also committed to 10 billion trees plantation in 5 years to combat climate change.