IBD: An Emerging Global Health Issue
Inflammatory bowel disease is a chronic relapsing inflammatory disorder of the gastrointestinal tract with harmful effect on the quality of life. This is emerging global disease, the incidence and prevalence is increasing with the passage of time. It has been a worldwide health-care problem with a continually increasing the risk of colorectal cancer. IBD patients have poor quality of life.
 Inflammatory bowel disease:
A heterogonous group of chronic immune mediated inflammatory disorders effecting the gastrointestinal tract is known as inflammatory bowel disease. It is a persistent set of disease and usually present in adulthood. Inflammatory bowel disease (Ulcerative colitis and Crohn's disease) is characterized as long term inflammatory infection of the GIT (Kapoor et al., 2016).
https://obgyn.onlinelibrary.wiley.com/doi/full/10.1111/tog.12271
Types:
A heterogeneous group of prolonged immune mediated inflammatory disorders that effects the GIT known as inflammatory bowel disease. The Ulcerative colitis and Crohn's disease are two primary phenotypes of IBD. In Crohn's disease stereotypical inflammation produce that may effect on any part of the GIT while ulcerative colitis effect the whole large intestine (Lane et al.,2017).
https://www.ncbi.nlm.nih.gov/pmc/articles/PMC5473501/
Signs and Symptoms
Clinical evidences of the IBD are different but the general symptoms are appetite, weight loss, abdominal pain, cramps,rectal bleeding, diarrhea, fatigue and fever. Some other extra-intestinal examples such as skin disease, liver problem, ocular involvement and arthritis are common about 25-40% in the patients of both UC and CD. Inflammatory bowel disease patients are more susceptible to colorectal cancer (Bilski et al., 2016).
https://www.sciencedirect.com/science/article/pii/S1734114016300275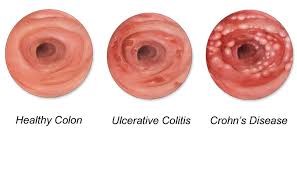 Risk factors for IBD
Diet
Smoking
Stress, Anxiety and psychological issues
Environmental factors
Non-steroidal Anti-inflammatory Drugs
Hormonal Influences
Worldwide occurrence:
In United States the evidences and occurrence of Crohn's diseases increases but the cause of this is not clear. The ratio is similar as westernized countries that is about 5/100,000 and 50/100,000 individually. Crohn's disease is long term inflammatory disease, it is not treated surgically. CD is treated by therapeutic approaches that control the disease, enhance the standard of life, reduce the short and long term toxicity .
Diagnosis of IBD
Physical examination.
Body weight
Blood pressure and pulse rate
Nutritional Status
Obstruction
Abdominal examination
Laboratory Markers in IBD
Number of laboratory markers are investigated in current research that are helpful in diagnosis of IBD and for assessment the outcome of various therapies.
Stool examination
Blood examination
Techniques used in IBD Diagnosis and treatment
Barium follow through technique
Sigmoidoscopy, colonoscopy
Upper GI endoscopy
Computed Tomography
Capsule endoscopy
Histopathological examination
Treatment of IBD:
In recent years a number of current and emerging therapies are introduce for the treatment of IBD. In classical treatment of IBD a number of biological components are used, like thiopurine, folic acid antagonists (Methotrexate), anti-TNF-α, antibiotics, aminosalicylates and corticosteroids. In CD and UC drugs involved in regulation of disturbed immune response. Current studies indicate that different types of drugs and cellular therapies used for IBD patients (Sales-Campos et al., 2015).
http://www.scielo.br/scielo.php?pid=S0100-879X2014005043774&script=sci_arttext
Nutrition in inflammatory bowel disease
Nutrition have important role in inflammatory bowel disease mainly in treatment of malnutrition and growth failure. In Crohn's disease patients, nutrition can influence remission, and prevent relapse .Nutrition have protective effect in UC and CD through breastfeeding and have vital role in IBD treatment. In short nutrition have more beneficial effect for Crohn's disease and play essential role in the avoidance and management of malnutrition in IBD.On disease incidence nutrition play a protective effect via breast feeding.
Surgical Treatment:
Surgical treatment of colonic dysplasia that is found in inflammatory bowel disease patients is contentious. In Crohn's disease and ulcerative colitis Total proctocolectomy (TPC) is the most perfect treatment for the suppression of undiagnosed synchronous dysplasia, carcinomas and avoidance of subsequent metachronous lesions in CD and UC. Due to the pathophysiological difference in CD and UC, opportunities for surgical treatment in CD may be different than simple TPC, mostly in the less healthy surgical candidate and those who reject end ileostomy (Connelly et al., 2013).
https://www.tandfonline.com/doi/abs/10.1586/egh.13.17
Conclusion:
The development of recent biological agents targets the certain pathways in inflammatory bowel disease that lead to a various types of therapies for patients. Number of treatments for IBD are still under process. In future we required to study the different biomarkers and introduce the new agents that are helpful in IBD treatment to remove the traditional remedy. Public awareness is of most concern to tackle this emerging disease.
References
Kapoor D, Teahon K and Wallace SV, 2016. Inflammatory bowel disease in pregnancy.                Obstetrics and gynecology. 18: 205-212
Lane E.R, Zisman T.L, and D.L, Suskin, 2017. The microbiota in inflammatory bowel disease:     current and therapeutic insights. J. Inflamm. Res. 10:63.
Bilski J, Mazur-Bialy A, Brzozowsk B, et al., 2016. Can exercise affect the course of        inflammatory bowel disease? Experimental and clinical evidence. Pharmacol Rep.           68:827-836.
Connelly T.M, Koltun W.A, Goel, et al., 2013. The surgical treatment of inflammatory bowel       disease-associated dysplasia. Expert review of gastroenterology & hepatology.7:307-322.
Sales-Campos H, Basso P.J, Alves V.B.F, et al., 2015. Classical and recent advances in the           treatment of inflammatory bowel diseases. Brazilian Journal of Medical and Biological Research. 48:96-107.
About Authors: 
Alishbah Roobi*, Muhammad Naeem Faisal, Wafa Majeed, Lunbna Majeed
Institute of Pharmacy, Physiology and Pharmacology, University of Agriculture, Faisalabad.