Here's Why You Should Try Out Uber Connect For Package Deliveries
An efficient delivery service had become an increasingly necessary requirement for major cities, like Karachi, where long distances and heavy traffic make it difficult to commute in car.
The launch of Uber Connect, a delivery tech solution by ride-hailing company Uber that enables users to send/receive packages and request for deliveries through the Uber app comes at a right time. With Uber Connect, a driver partner can pick up a package and have it delivered right away.
After participating in an online talk about the service with Uber Pakistan's General Manager Saad N. Pall, we tried out the service the very next day to send a few clothing items across town to another residence. Getting to this residence is usually a headache in the traffic in Karachi, and requires time and a lot of energy. Thankfully, with Uber Connect, the delivery was fast, affordable and most importantly, involved no-contact. It even offered live tracking through the Uber app for both the sender and the recipient and was entirely hassle-free. The only requirement is for the package to not weigh more than 15 kgs and not be of a monetary value of more than Rs. 3,000.
A quick and easy step-by-step guide to how Uber Connect can be used to get packages delivered can be found below:
On the Uber app on your phone, select the Package option.
Choose to Send or Receive package.
Enter recipient's contact information manually or from your synced contact list.
Enter the recipient's location.
Choose Connect and wait for the driver to come and pick your package up.
Uber Connect can similarly be used to order groceries and medicines from nearby stores and get them delivered to your doorstep as well.
Read on to know why you should try out Uber Connect:
Easy to Track
The app features a live tracking system on both the sender and recipient's app interface, making it easy to know where the driver is and when the package will be delivered.
Quick and Reliable Delivery
Uber Connect offers a same-day, hassle-free, and no-contact delivery service that is quick and can connect you with potential drivers nearby within a few minutes.
Nominal fares
Depending on the distance and in-line with Uber's core value of nominal fares, the Uber Connect service is equally cost-effective and charges as low as Rs. 100 for deliveries within the same city. The delivery service is not just quick and easy-to-track, it's also easily affordable.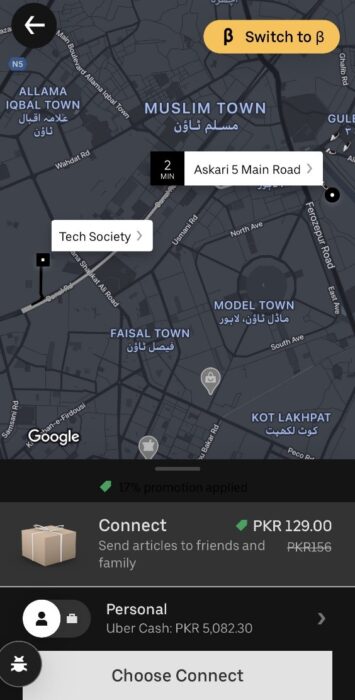 Convenience
How often have we needed to get eggs from the store, and get lazy about it, or worried about stepping out into crowds during these uncertain times? Uber Connect gives you the chance to get your groceries or medicines, dry cleaning etc. picked up for you and delivered to your location without you having to leave the house, bringing you ample convenience.
Additional Income for Drivers
One important aspect of the new introduction is all the additional income opportunities it gives to the drivers who had been impacted by the drop in rides due to Covid-19. In such challenging times, any amount of additional income support is valuable, and Uber Connect offers that to the drivers.
Package delivery is not a new concept in the country and there are many other players in the market offering similar services as well. With such convenience, one can already see Uber Connect soon becoming a regular favorite. Filling an important vacuum in the courier service, Uber Connect is operational not just in Karachi, but in Lahore and Islamabad too.