January–March 2020: Black Summer Leads Into Looming Global Crisis
Just as the smoke started to dissipate, the world's attention turned to a new global crisis as news emerged from Wuhan, China of a novel virus.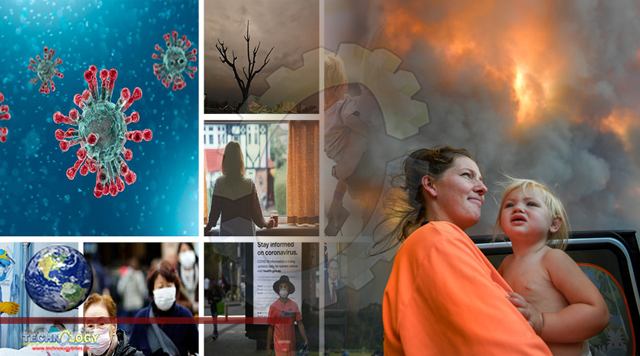 By Anastasia Tsirtsakis
January–March 2020: Black Summer Leads Into Looming Global Crisis : Unprecedented is certainly the word of 2020, and for Australia it was the case even before the pandemic reached our shores.
 
The year commenced with a devastating bushfire season that saw fires burning across Australia that resulted in lost lives, destroyed homes, and killed and displaced wildlife. The scale and ferocity of the fires pushed emergency services, volunteers and local communities to breaking point, and left lingering marks that will last for years.   
 
To complicate matters, GPs in affected areas in Victoria and New South Wales were forced to work under difficult conditions amid reports of being sidelined at local bushfire evacuation centres.
 
The RACGP met with the Department of Health in the second week of January to raise the issue of greater support for GPs in affected communities.
 
'GPs have been doing truly amazing work under incredibly trying conditions,' the RACGP's former President Dr Harry Nespolon told newsGP.
 
'Yet reports from the frontline suggest there is an urgent need for more medical care in these areas, and the Government should be doing everything it can to help facilitate this assistance.'
Just as the smoke started to dissipate, the world's attention turned to a new global crisis as news emerged from Wuhan, China of a novel virus.
 
first reported on the coronavirus on 17 January, at which point just two deaths had been recorded and the first cases of the virus had been confirmed outside of China in Thailand and Japan.
 
As fears spread over a man arriving in Queensland from China with flu-like symptoms, former Chief Medical Officer Professor Brendan Murphy assured Australians the risk of a large-scale outbreak was low.
 
GPs were the first on the frontline, as Queensland authorities called on general practice to collect specimens from any suspected cases.
 
Within a week, global cases almost tripled to more than 300 and authorities confirmed the virus could be transmitted from human to human. Australian authorities responded by introducing new screening measures for direct flights travelling from Wuhan to Sydney, just two days before Australia would record its first case of the virus on 25 January.
 
As cases continued to rise into February, Deputy Head of the Shanghai Civil Affairs Bureau Zeng Qun suggested the virus could infect people via airborne transmission.
 
'Aerosol transmission refers to the mixing of the virus with droplets in the air to form aerosols, which causes infection after inhalation, according to medical experts,' he said.
 
'As such, we have called on the public to raise their awareness of the prevention and control of the disease caused by family gatherings.'
 
Locally, doctors in New South Wales were able to isolate the virus following extensive testing of a patient isolated at Westmead Hospital. Scientists studied eight variants and produced two full genome sequences in the process.
 
As the number of global cases topped 40,000 on 9 February, World Health Organization (WHO) Director-General Dr Tedros Adhanom Ghebreyesus warned 'we may only be seeing the tip of the iceberg', fearing the slow spread outside of China could accelerate.
 
'Containment remains our objective, but all countries must use the window of opportunity created by the containment strategy to prepare for the virus's possible arrival,' he said.
 
By the middle of February there had been a surge in cases; infections were reported in 66 countries and regions outside of China while 131 deaths had been recorded, leading the WHO to label the emerging crisis a Public Health Emergency of International Concern (PHEIC) and upgrade the global risk to 'very high'.
 
As scientists continued to search for answers, the concept of environmental conditions such as temperature, sunlight and humidity having a potential role in supressing the virus started to circulate as a result of leaked comments attributed to Professor John Nicholls from the University of Hong Kong's Department of Pathology.
 
'Sunlight will cut the virus' ability to grow in half, so the half-life will be two-and-a-half minutes and in the dark it's about 13–20 minutes. Sunlight is really good at killing viruses,' he said during a conference call, drawing a comparison to the 2002–03 SARS outbreak.  
 
'That's why I believe that Australia and the southern hemisphere will not see any great infection rates because they have lots of sunlight and they are in the middle of summer. And Wuhan and Beijing are still cold, which is why there's high infection rates.
 
'In regards to temperature, the virus can remain intact at 4⁰C or 10⁰C for a longer period of time. But at 30⁰C degrees then you get inactivation. And high humidity, the virus doesn't like it either.'
 
The Australian Government elevated its response as February drew to a close, with Prime Minister Scott Morrison activating the Australian Health Sector Emergency Response Plan for Novel Coronavirus.

Cases started to ramp up in Australia in March, and the first local death from COVID-19 was recorded, a 78-year-old Perth man who was a passenger on the Diamond Princess. Just one day later the first two cases of community transmission were recorded.
 
Doctors started to gain more insight into the factors that worsen coronavirus severity, as cases mounted around the world, with older age emerging as the greatest risk factor.
 
'The case fatality gets up to about 15% for people who are 80 and older, which is very high,' Dr Katherine Gibney, an epidemiologist at the Peter Doherty Institute for Infection and Immunity and Austin Health Infectious Diseases Physician, told newsGP.
 
General practice was faced with a critical shortage of essential supplies, including masks and other personal protective equipment (PPE). Later that month, elective surgeries were cut back so that PPE could be diverted to the pandemic frontline.

GPs started to get creative in their response, and Dr Mukesh Haikerwal became the first GP in Victoria to set up a drive through testing site at his clinic in Melbourne's west, swabbing patients for COVID-19 in their cars.
 
That month Dr Chris Higgins became the first doctor to contract the virus.
 
Former Victorian Health Minister Jenny Mikakos came under fire after criticising the Melbourne GP, claiming she was 'flabbergasted' that a doctor with 'flu-like symptoms' had presented to work after returning from the US.
 
The medical community came to Dr Higgins' defence, with an online petition launched by University of Sydney professor of surgery Dr Henry Woo, denouncing Ms Mikakos' comments, while a number of GPs with minor ailments reported feeling anxious about whether they should go into work.
 
'Minister Mikakos' comments managed to completely unsettle the general practice community over the weekend and people who are low risk, maybe even no risk – they're getting a snuffle – and they're not coming in because they don't want to be "flabbergasted",' former Chair of RACGP Victoria Dr Cameron Loy told newsGP.
 
As supplies of pathology test kits, reagents and swabs started to rapidly deteriorate, Professor Murphy wrote to GPs directly in newsGP, calling for their support to apply the strict application of the Communicable Diseases Network Australia (CDNA) National Guidelines when deciding whether to refer a patient for a COVID-19 pathology test.
 
'Thank you for your assistance in managing the overwhelming demands on our health system presented by this pandemic,' Professor Murphy wrote.
 
It was on 11 March that the WHO declared the COVID-19 outbreak a global pandemic, as more than 118,000 cases were reported in 114 countries, and more than 4000 deaths.
 
Non-essential gatherings of more than 500 people were banned in Australia, and the community was called upon to practise social distancing measures and maintain good hand hygiene.
 
Australia's international borders were closed on 20 March to all non-citizens and non-residents, and a week later 14-day mandatory hotel quarantine was introduced for returned travellers.
 
Following lobbying by the RACGP, the Federal Government announced that telehealth would be extended to all Australians.  
 
'This has been one of the most significant changes we've seen in Australian general practice in my working lifetime of 35 years,' Professor Michael Kidd, Principal Medical Adviser to the Department of Health, said. 
Originally published at Racgp