Eni (E) the world renowned energy company plans to exit Pakistan
Eni S.p.A. E has plans to divest oil and gas resources in Pakistan, per Bloomberg. The company has been operating in the South Asian country for 20 years.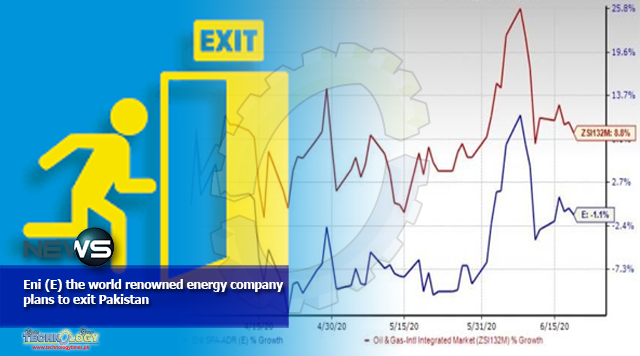 Eni S.p.A. E has plans to divest oil and gas resources in Pakistan, per Bloomberg. The company has been operating in the South Asian country for 20 years. It is in talks with a financial advisor to evaluate its portfolio in the country.
The divestment would include Eni's producing assets in Badhra, Bhit and Kadanwari. Moreover, the company's processing units and many non-operating assets will be included in the sale. It will divest eight development and production, and four exploration leases.
The company produces 37 billion cubic feet of natural gas annually in the country. Moreover, it opened a photovoltaic plant in 2019 in Bhit, where it has a 40% operating stake. The plant, which has the capacity to produce around 20 gigawatt hours per year, is expected to reduce gas consumption and prevent more than 144 thousand tons of carbon dioxide from being released.
Divestment Benefits
The divestment can bring more cash and enable the company to reduce debt level. As of Mar 31, Eni had a long-term debt of €19.7 billion. In the March quarter, its cash balance declined €2.4 billion to €3.6 billion, which is not sufficient to cover short-term debt of €4.6 billion. Also, the company's ability to pay off a portion of total long-term debt of €19.7 billion is in question since there has been prolonged weakness in global energy demand without possibilities of recovery anytime soon.
The above-mentioned divestment can help the company focus on more profitable resources. The start-up of key upstream projects in Algeria, Mexico, Egypt and Norway is expected to have enabled it to meet compound annual production growth rate of 3.5% from 2019 through 2025.
Eni's exploration campaign offshore Angola led to five new discoveries that are expected to hold 2 billion barrels of oil. These developments strengthened Eni's footprint in the region, and are expected to boost organic growth and cash flow.
Its equity production from Angola currently stands at 145,000 barrels of oil equivalent per day. The company recently started production from the Agogo oilfield, only nine months post its discovery.
Price Performance
Eni's shares have lost 1.1% from the beginning of the second quarter against 8.8% rise of the industry it belongs to.
Zacks Rank & Stocks to Consider
Eni currently has a Zacks Rank #3 (Hold). Some better-ranked players in the energy space include Chaparral Energy, Inc. CHAP, CNX Resources Corporation CNX and Concho Resources Inc. CXO, each holding a Zacks Rank #2 (Buy). You can see the complete list of today's Zacks #1 Rank (Strong Buy) stocks here.
Chaparral Energy's bottom line for 2020 is expected to rise 57.8% year over year.
CNX Resources beat earnings estimates thrice and met once in the last four quarters, with average positive surprise of 111.5%.
Concho Resources has a positive earnings surprise of 4.9% in the last four quarters.
Zacks Top 10 Stocks for 2020
In addition to the stocks discussed above, would you like to know about our 10 finest buy-and-hold tickers for the entirety of 2020?
Last year's 2019 Zacks Top 10 Stocks portfolio returned gains as high as +102.7%. Now a brand-new portfolio has been handpicked from over 4,000 companies covered by the Zacks Rank. Don't miss your chance to get in on these long-term buys.