PU-WWF sign MoU for environmental awareness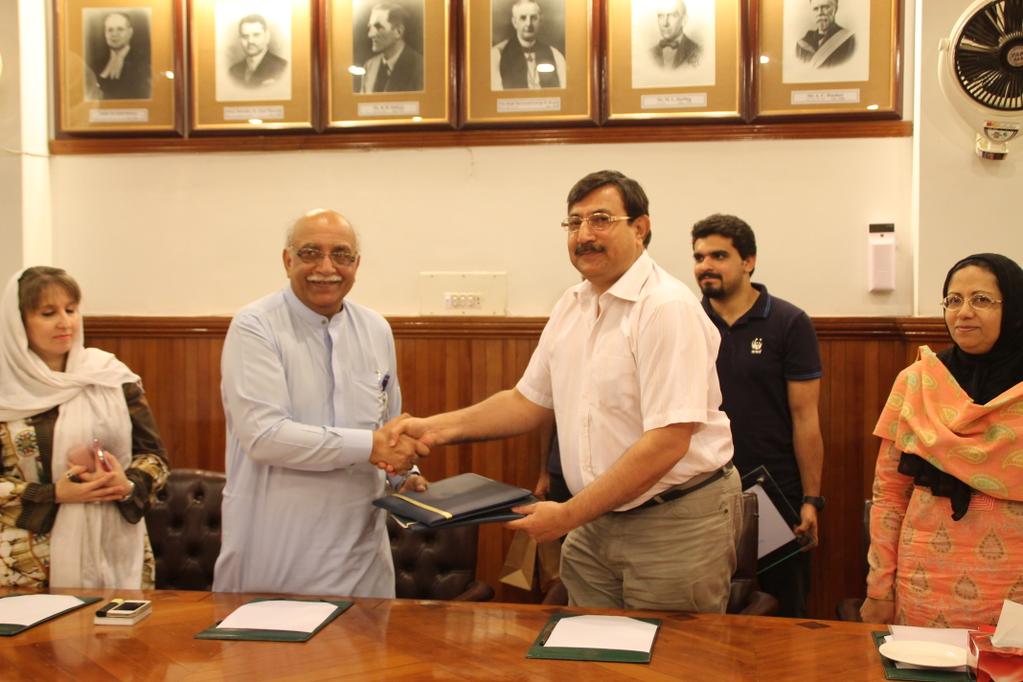 Staff Report LHR: A memorandumt of understanding (MoU) between Punjab University College of Earth and Environmental Sciences (PU-CEES) and World Wildlife (WWF) was recently inked to promote awareness in youth pertaining to environmental issues.

The objective of the MoU is to augment a framework for the successful partnership to strengthen relationship of academia with community development stakeholders and actors. Both the parties are committed to support the objective and goals to increase the community outreach and cultivate civic engagement culture among university students.

The event was organized at Punjab University. Notable dignitaries including Vice Chancellor PU Dr. Mujahid Kamran, Anwar Nasim, Director External Linkages Dr Maria Maldonado, Principal College of Earth and Environmental Sciences Prof Dr. Firdaus-e-Bareen also participated in the event..

Anwar Nasim said on the occasion, "WWF-Pakistan is the only organization running such environmental programmes in educational institutions of Pakistan which is admired by the international community. Moreover India, China and Bangladesh have also decided to run similar awareness programmes. Through this collaboration we aim to help create environmental awareness amongst students for a greener future.".

According to MoU, WWF will provide funds for awareness activities, events, seminars that are in accord to environmental protection, sustainability, and research conducted by CEES. Additionally, CEES will enroll a minimum 200 students every fiscal year, the International Eco Internship Programme to its students.