Scientists urged to focus more on biotechnology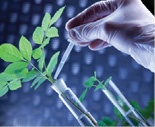 STAFF REPORT IBD: Rector International Islamic University (IIU) Dr. Masoom Yasinzai has said that Pakistani scientific community need to focus on biotechnology to resolve issue of fuel being faced by the country by utilizing huge bio resources.

"biotechnology advancements can help in curing human diseases and the field has vast scope in the future," said the VC while addressing as chief guest to concluding ceremony of the recently held five-day "National Conference on Computational Biology" organized by Department of Bioinformatics and Biotechnology.

Chairman Pakistan Science Foundation Dr Khalil Ahmed and Vice President Academic, IIUI Dr. Mumtaz Ahmed were guest of honour on the occasion.

Dr. Yasinzai said to the students of Biotechnology that they have made a right choice by opting this subject and it may lead them towards their bright future and service of humanity.

He also shed light on innovations in Biotechnology and apprised the participants about the genetically engineered food.

The Rector IIUs presentation also covered the field of nanotechnology in which he informed about the advancements made by scientist to cure the life taking diseases in an easy way.

Dr. Khalil, being guest of honor briefed the audience about the achievements of PSF in scientific development. He assured that youth will be granted opportunities to get knowledge of advancements in the field of science under the network of computational society.
Technology Times Web team handles all matters relevant to website posting and management.